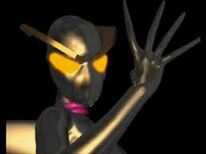 Humans are a species of mammal descended from planet Earth. However, they appear in many forms on other planets in The Unholy War.
Arcane Humans
Edit
Dark Angel (Mutant)
Mogalin Rider
Teknos Humans
Edit
Killcycle (Half Machine)
Quicksilver
Wasp (Half Machine)
Arcane Humanoids
Edit
Ecton
Fire Witch
Magus Lizard
Teknos Humanoids
Edit
Tesla Lord 
Razorfane (Human brain in mechanical suit)
Betarazor (Human brain in mechanical suit)
It is never revealed how humans like Dark Angel appeared on Xsarra. Due to the time the game is set in, previous humans may have landed there.
The only pure humans are: Mogalin Rider and Quicksilver. The rest are mutated, or partially mechanical.